Why your kitchen needs a scullery
Why your kitchen needs a scullery
Rating:
/5 - votes
(BPT) - The scullery is turning up more frequently in American homes. The British term describes a separate room off the kitchen where messy prep work and unattractive clean-up tasks like pot scrubbing can be done out of sight — a major asset in today's open-plan houses. "Scullery and butler's pantry are often used interchangeably," notes Linda Jovanovich of the American Hardwood Information Center. "But a scullery is a true work zone with a full-size sink and ample counter and storage space, not just a staging area for serving meals or a place to keep china, silver, and linens. Here are some examples of hardwood being used to create sculleries that are both practical and attractive."
A classic American scullery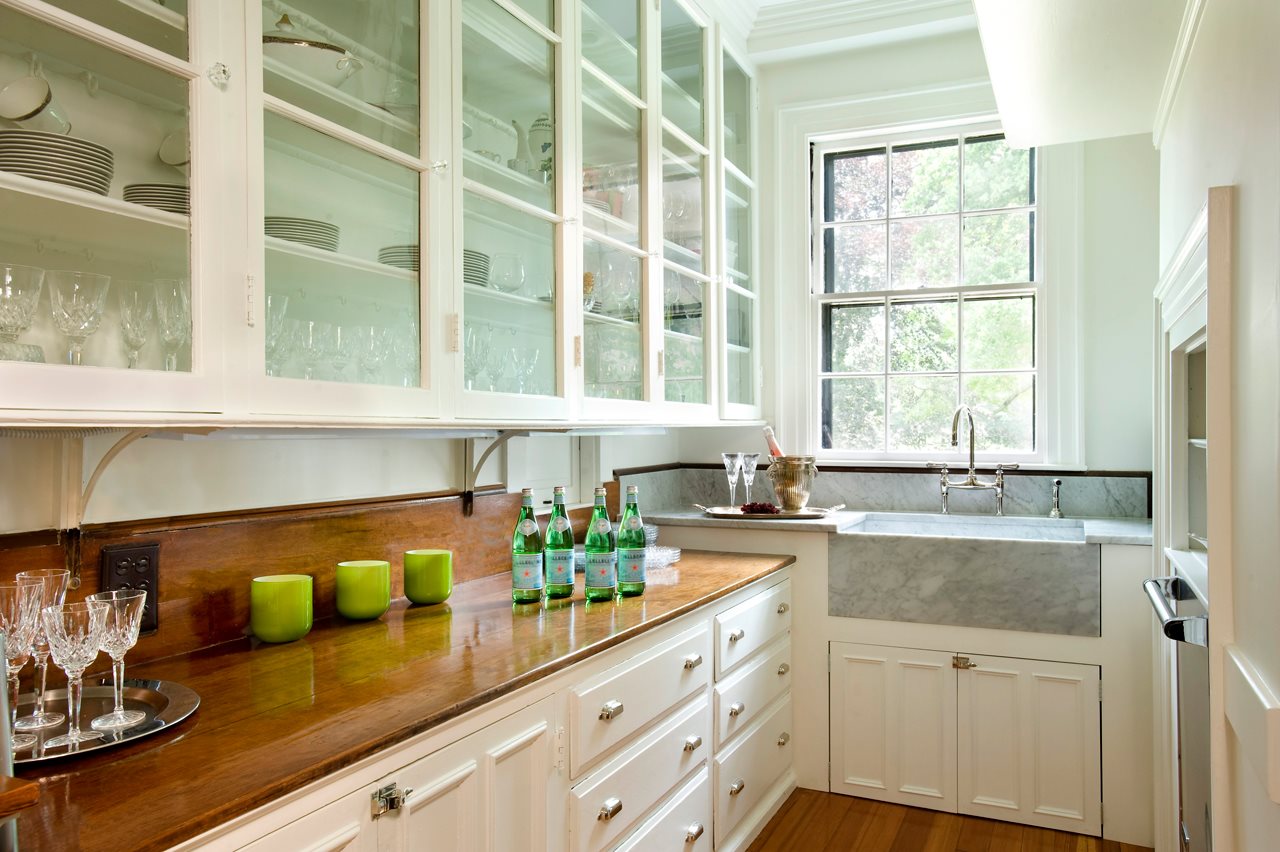 Photo courtesy Shelly Harrison
Sculleries were more common in prewar houses. When renovating this one in a 1930's Colonial Revival residence in Westwood, Mass., builders Landmark Services restored the original glass-front cabinets and hardwood countertop. A new marble farm sink sits under the window of the airy 6-by-14-foot space, a U-shape layout that doesn't feel cramped or pokey.
A modern scullery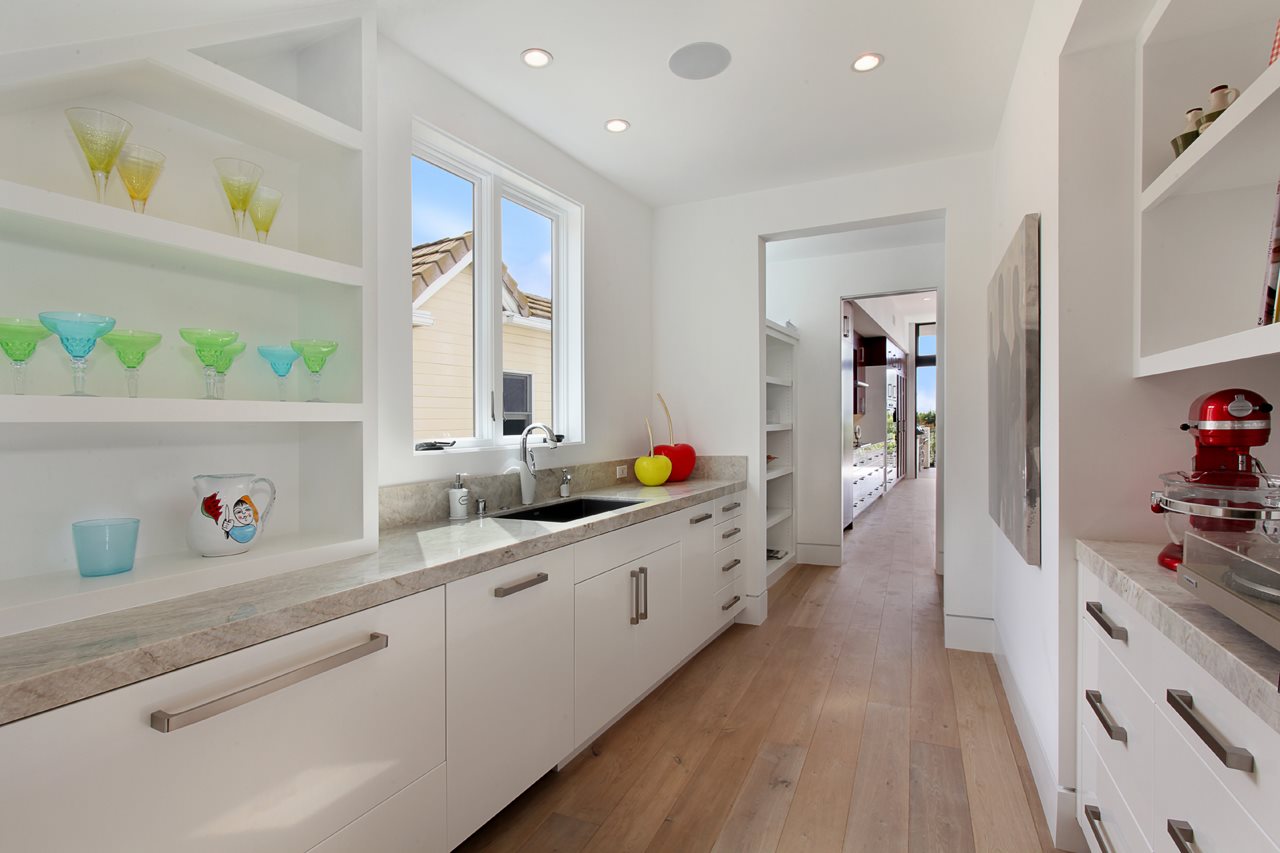 Photo courtesy Jeri Koegel
In this super-sleek Newport Beach, Calif., scullery — a collaboration between Brandon Architects, Ultra-Mod Concepts interior design, and Patterson Custom Homes — crisp white-painted cabinetry, stainless-steel hardware, and thick quartz countertops are joined by gorgeous oak flooring, which brings warmth and texture to the clean-lined contemporary space.
A Southwestern scullery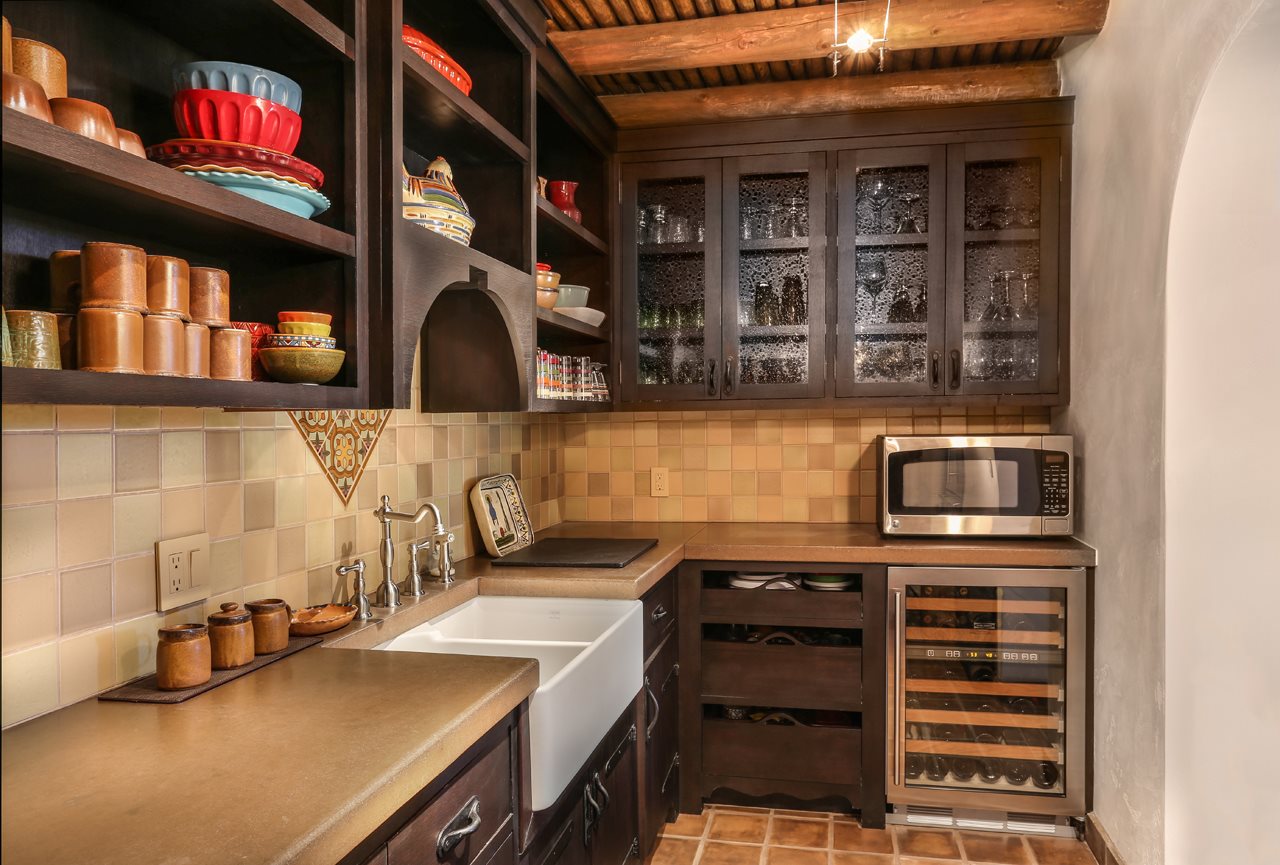 Photo courtesy Velen Chan
Designed by Lee Shaw Architecture and Rick Ansaldi while at Ansaldi Shaw Design, this scullery riffs on the Spanish-Colonial heritage of its Tucson, Ariz., location. Custom cabinetry, inspired by 1930's Monterey furniture, is complemented by an apron sink, ceramic tile backsplash, concrete countertop, smooth plaster walls, and a traditional viga or peeled-log ceiling.
A screened-in porch scullery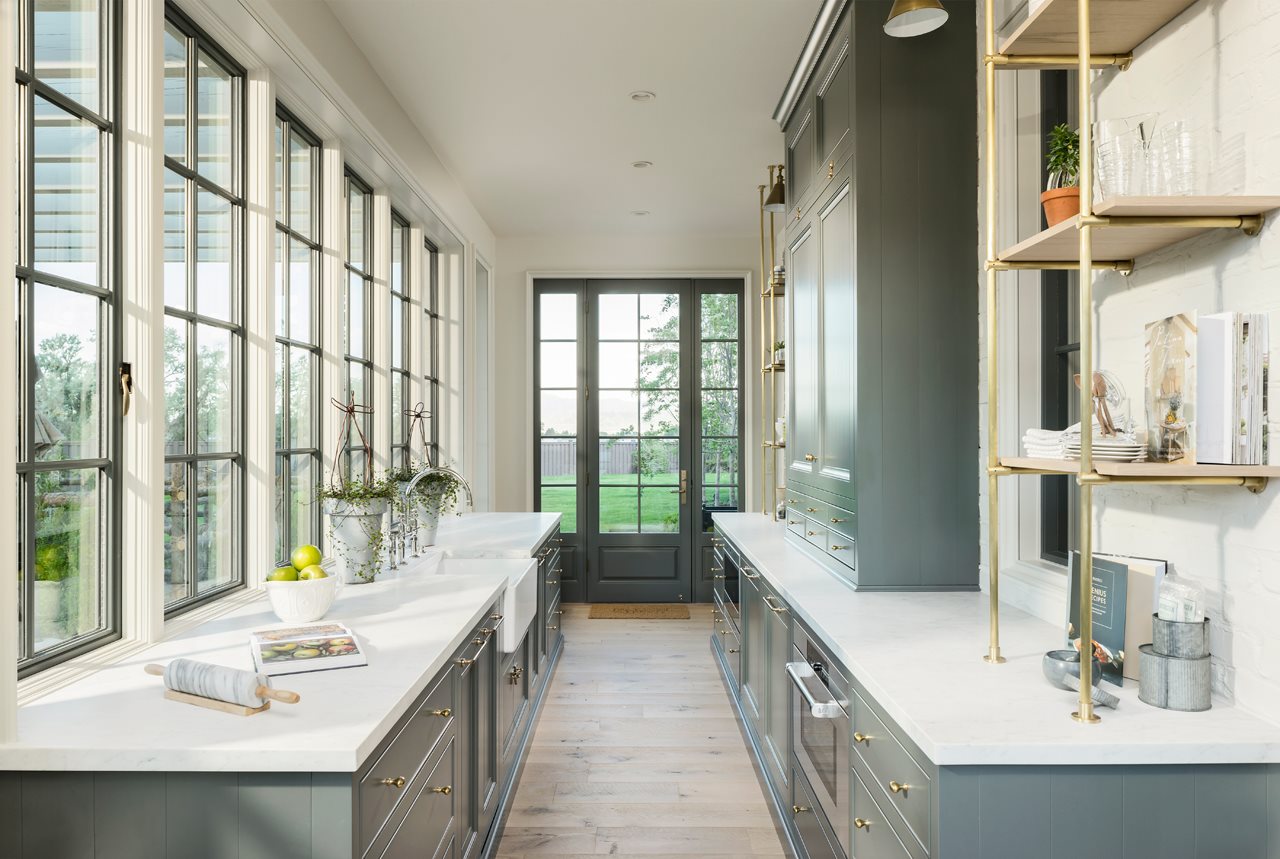 Photo courtesy Joshua Caldwell
In a new Salt Lake City house designed by Establish Design and built by Jackson & LeRoy, the grand scullery is surrounded by glazing, as if it was a screened-in porch. The large farm sink, expansive countertops, and ready access to the garden mean the space functions as a kitchen work annex and an elegant potting shed.
A Shaker-style scullery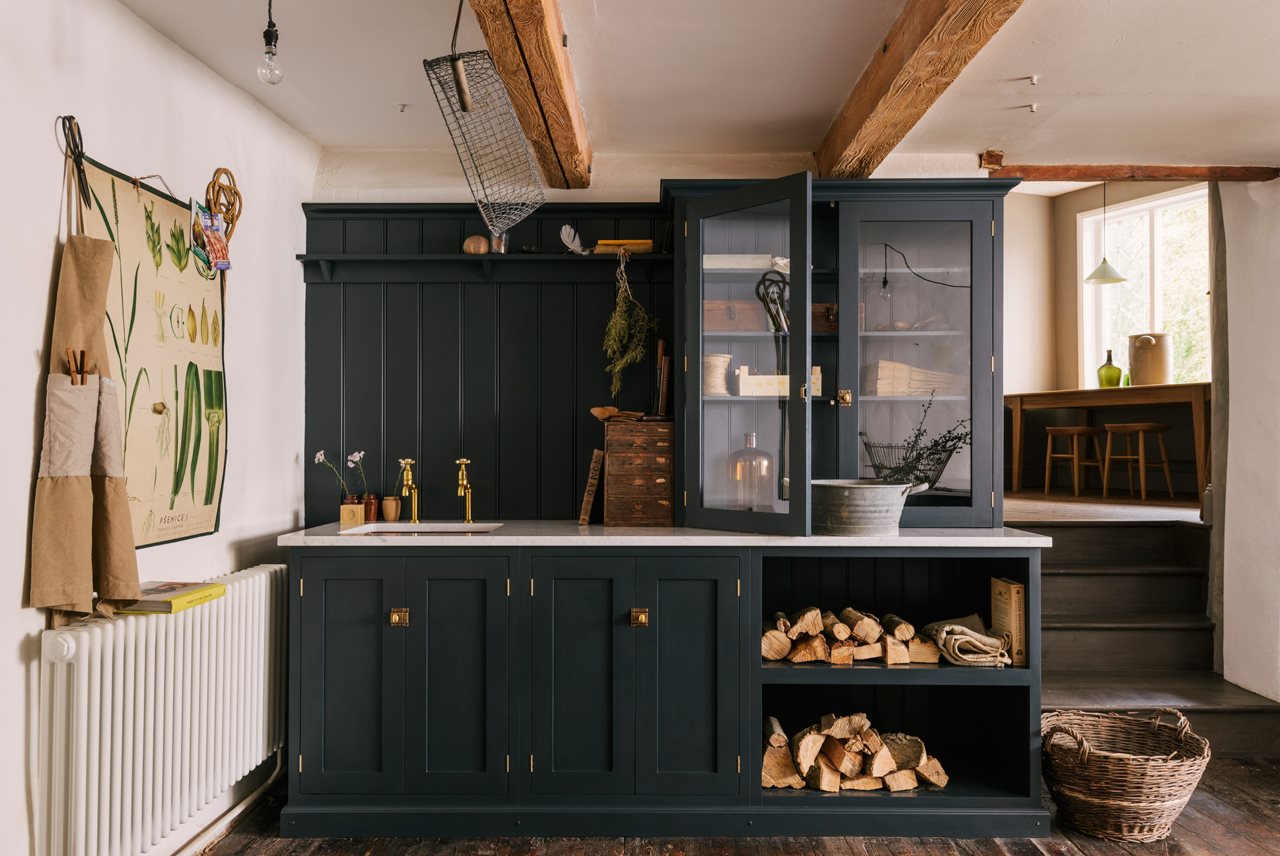 Photo courtesy deVOL Kitchens
Despite the exquisite period details — polished-brass faucets and hardware, glass-front cabinets, tongue-and-groove hardwood paneling, heritage dark-blue paint — this Shaker-style scullery by deVOL Kitchens is equipped for serious work. The wide-open base cabinet, perfect for stacking and storing, is a particularly welcome feature.
A scullery laundry room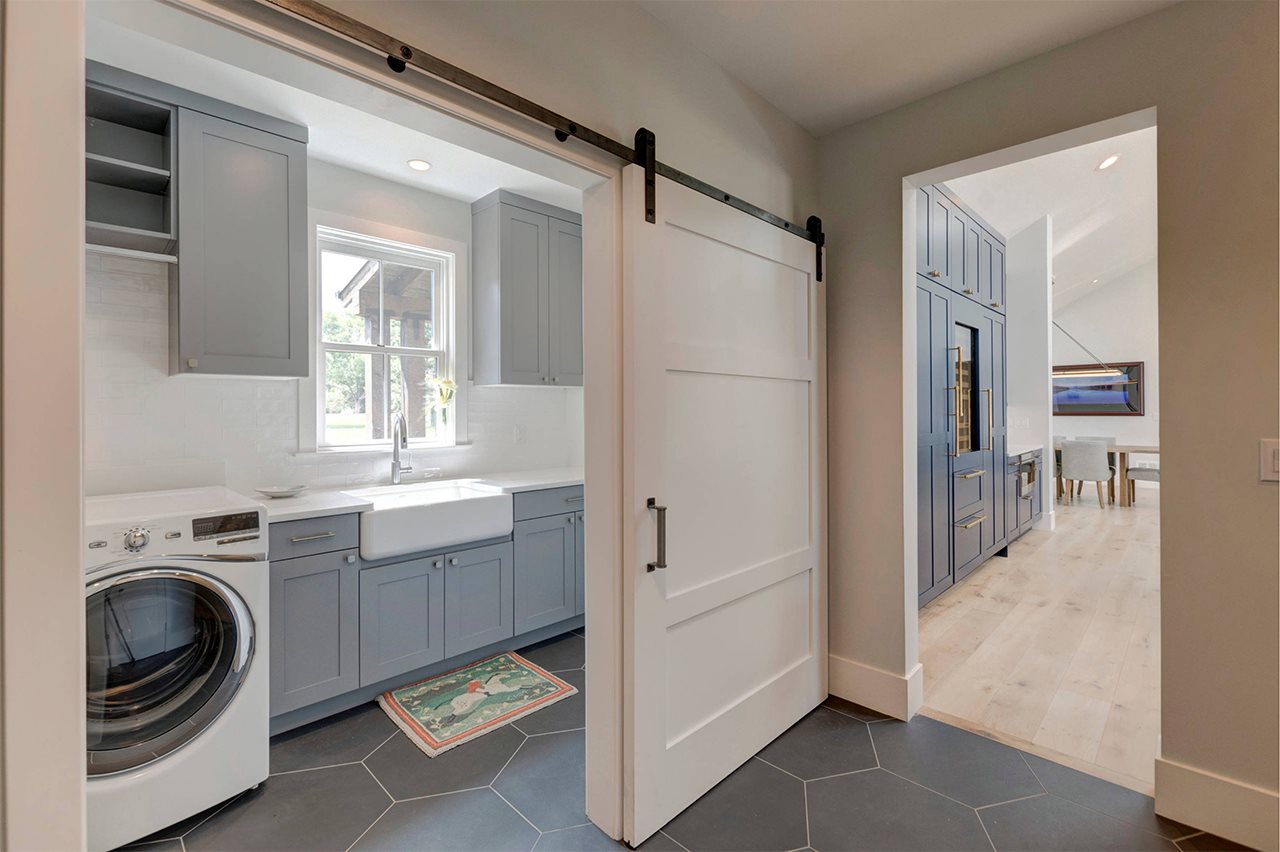 Photo courtesy TMD Custom Builders
One space-saving idea is to combine the scullery with a mud room or, as in this Denver house remodel by TMD Custom Builders, with the laundry. A sliding barn door opens up the room completely while the galley layout ensures loading the washing machine won't get in the way of scrubbing the pots. Visit www.hardwoodinfo.com for more about improving your home with American hardwood.
Recent Post
Home may be where the heart is, but the higher energy bills from staying home 24/7 are causing…

With temperatures cooling and leaves changing from golden yellow to deep auburn, there's no…

While spending more time at home, you've probably started noticing repairs you need to make.…

Never before has a home's outdoor space been more cherished or vital. It's not surprising then…

As we continue to grapple with COVID-19, people spending more time at home are tackling more…

Unfortunately, 2020 has seen more than the usual number of natural disasters. With unprecedented…